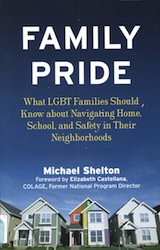 Family Pride:
What LGBT Families Should Know about Navigating Home, School, and Safety in Their Neighborhoods
HQ75.28 .U6 S54 2013
New Arrivals, 2nd floor
Starting last week, many people's Facebook newsfeed have been filled with a bunch of red equal signs [or some funny variation]. It turns out that Facebook shared that 2.7 million profile pictures were changed to reflect their support for the LGBT community as the Supreme Court takes up California's Proposition 8 and the Defense of Marriage Act. This week's featured title takes a look the family side of individuals affected by the outcomes of these decisions.
Shelton, a therapist based out of Philadelphia, provides a nice primer on the LGBT family. As the author notes in the beginning chapters, the tides have turned and progress has been made for the LGBT community, but there is a counter-attack on them as well. He outlines the issues and challenges that these families face, many of which people may not even consider when thinking about raising children. From evaluating school systems to just going to the park, this book details the 'need-to-know' information for the LGBT family.