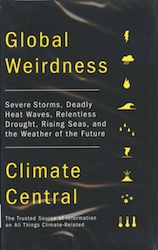 Global Weirdness:
Severe Storms, Deadly Heatwaves, Relentless Drought, Rising Seas, and the Weather of the Future
by Climate Central
QC903 .G58 2012
New Arrivals, 2nd floor
Regardless of the side of the global climate change debate you are on, you have to admit that it does seem like we've had some pretty crazy weather lately. I mean, thundersnow?! Who knew that such a thing existed? This week's featured title gives the forecast for the future, and it's not all that calm.
Climate Central describes themselves a "independent organization of leading scientists and journalists researching and reporting the facts about our changing climate and its impact on the American public." In this book, the group puts together sixty articles about what's going on with the weather. Looking at the science, as well as present and projected situations, the book provides the complex climate research being done for anyone to understand. In addition, the authors also examine the steps that could be taken to avoid the future dangers of climate change.