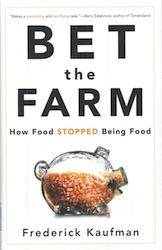 Bet the Farm:
How Food Stopped Being Food
by Frederick Kaufman
HD9000.5 .K3725 2012
New Arrivals, 2nd floor
You know how they say that it's dangerous to go to the grocery store when you're hungry? The same goes for writing blog posts. You can put money on the fact that I was hungry when searching for books to spotlight for New Stuff Tuesday, just like this week's featured title.
Kaufman, contributing editor for Harper's and lecturer at CUNY's Graduate School of Journalism, sets out to uncover the reasons why quality food, in terms of nutritional and economic value, isn't available to everyone. His search leads him around the world, from corporate headquarters and mega-farms to the United Nations meetings, and he finds that the investment in grain futures as the source is wreaking havoc on the dinner table. The writer seeks to expose the drive to put profitability before anything else, filling up corporate pockets and emptying the plates of millions.