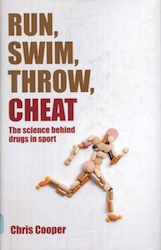 Run, Swim, Throw, Cheat:
The Science Behind Drugs in Sport
by Chris Cooper
RC1230 .C59 2012
New Arrivals, 2nd floor
There's nothing like a good scandal to make the world go round. The sports world is not without its slip-ups, and unnatural performance enhancement is one that is sure to make headlines. After all, fans expect professional athletes to be in top physical condition without any help from steroids and other banned substances. This week's featured title goes into the 'how?' behind making those supplements effective in the game of unfair advantages.
Cooper, a biochemist and sports scientist, begins his work by detailing the most 'corrupt' races ever, the 1988 Men's 100m Olympic final and the 2005 Women's 1500m World Championship, in which eleven of the thirteen competitors would caught doping. Using this as a springboard, he explores the limits to human performance, the physiological factors, and then into biochemistry of steroids and stimulants. The author wraps up with looking at cheating and the measures taken to detect foul play. This book serves as an excellent current edition to the research into doping in sports.