You can learn about these and other community events and news at the Whitewater Banner:
What's for dinner tonight (Friday Feb 8)? It could be soup! The Washington Elementary School (506 E Main St) is offering a soup dinner from 4:30-6:30pm as a fundraiser for the Whitewater Food Pantry. Also available: art activities from 5-7pm, pie sale, music, and more. Suggested donation for the dinner is $5 , and carryouts are available for $8. You're also encouraged to donate non-perishable food items for the pantry.
You also can sign up for a cooking demonstration at the local Daniels Sentry on Monday Feb 25, 6:30-7:30pm. You'll learn to make simple recipes. Details are inside the store at its customer service desk. Cost: $5.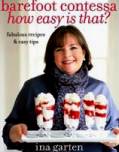 And did you know? Andersen Library has cookbooks! Search HALCat for cookbooks or cooking to find titles such as Comfort food fix: Feel-good favorites made healthy (2nd-floor Browsing Books, TX714 .K748 2011), Mexican made easy: Everyday ingredients, extraordinary flavor (2nd-floor Browsing Books, TX716.M4 V334 2011), Lidia's favorite recipes: 100 foolproof Italian dishes, from basic sauces to irresistible entrées (2nd-floor Browsing Books, TX723 .B31898 2012), and Barefoot Contessa, how easy is that?: Fabulous recipes & easy tips (3rd-floor Main Collection, TX714 .G3643 2010).
Please ask a librarian if you'd appreciate assistance with finding materials.