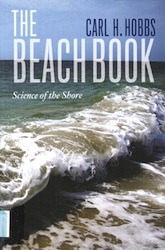 The Beach Book:
Science of the Shore
by Carl Hobbs
GB454 .B3 H63 2012
New Arrivals, 2nd floor
It's February in Wisconsin. You look out the window and you can see the cold. It doesn't help that there's a lot of fluffy white stuff on the ground to reinforce the chill. It makes many people long for the days of non-subzero temperatures, when you can be outside without ten layers of clothing or when you can go swimming for something other than a Polar Plunge. With those happy thoughts of warmth, this week's featured title is certain to cure those winter blues.
Hobbs, marine science professor at the College of William & Mary, discusses all things coastline in his work about one of the beloved signs of summer, the beach. He explains all of the processes that go into the formation of beaches and the changes over time. The author covers a lot of ground, from the natural forces like wind and storms and all the way to barrier islands and inlets. If you find yourself wondering how all of the sand got in one place to provide the perfect sunbathing spot, this book's for you.