Author and journalist Andrew Leonard will talk about How the world works: the interconnections between globalization, energy policy, economics, the environment, and politics… and everything else in between (Wow!) at 7 p.m. on Monday, February 11, in the Irvin L. Young Auditorium. It's the first Spring 2013 Contemporary Issues Lecture.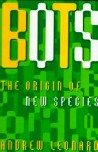 Leonard, author of Bots: The origin of new species (3rd-floor Main Collection, QA76.76.I58 L46 1997), also writes and blogs for Salon.com.
You can search for articles by Leonard by searching for him as an author in the Library's article databases. Examples of his articles include titles as varied as "Slow deduction" (Yoga Journal, 2011, no.241, pp.35-38) about Leonard's experience learning to cook authentic Indian food, "The Road to Salvation" (Sierra, 2009, vol.94:no.2, p.24) about issues associated with developing energy efficient automobiles, and an interview with William Gibson for Rolling Stone (Nov. 15, 2007, no.1039, p.162).
If you'd like assistance with finding additional materials, please ask a librarian.