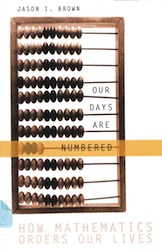 Our Days Are Numbered:
How Mathematics Orders Our Lives
by Jason Brown
QA93 .B76 2010
New Arrivals, 2nd floor
It's been a little chilly outside lately, which has forced me inside to run on a treadmill. While some argue that it's boring because the scenery's all the same, I make a game out of it. That's right – I'm constantly doing math problems in my head, trying to figure out how my speed is affecting my overall time and what happens if I go faster [or need a breather]. That's just one way in which numbers take over our lives, as the week's featured title describes.
Brown, math professor at Dalhousie University, takes a close look our daily lives on this planet and how everything, from our health to redecorating, comes down to mathematics. You can't escape it, and you might as well just embrace it. The author breaks it all down in a humorous and human [read: non-math nerd] manner. After you read this book, you'll never be able to look at that Sudoku puzzle the same way.