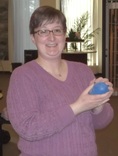 Making the stress balls was very popular this week! Here are photos of Katie testing newly-minted stress balls (right) and Macaela getting another one ready (left).
Here's a great, big THANK YOU to the Library staff members (the Public Relations Committee) who worked to bring stress-busting events to the students this week!
And don't forget: The therapy dogs are visiting tomorrow (Friday)!