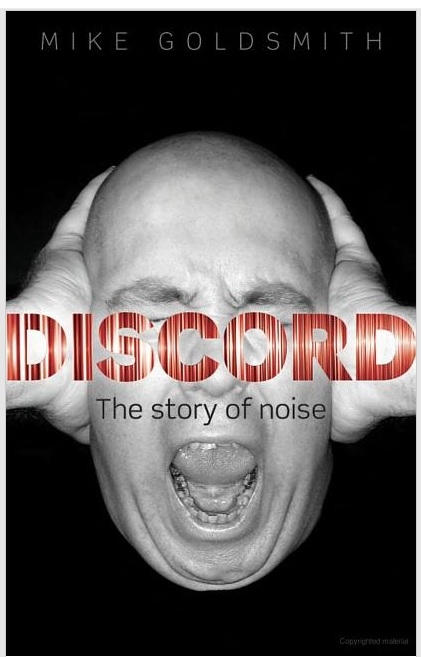 Discord: The Story of Noise
by Mike Goldsmith
QC225.15 .G65 2012
New Arrivals, 2nd floor
We used to have a ceiling fan in our dining room that had a faint "hum" when turned on. I couldn't stand to listen to the noise. My husband couldn't hear it, though, and I'm pretty sure he thought I was nuts. But if I was home, that fan stayed off. We finally replaced it with a chandelier.
So as I browsed the New Book Island looking for a book for New Stuff Tuesday, I couldn't resist Discord: The Story of Noise. The author, Mike Goldsmith, used to work in the Acoustics Group at the National Physical Laboratory in the United Kingdom. He starts out with a brief chapter on the nature of noise, which discusses what sound is and how the ear processes it. He also includes chapters on the history of noise, starting at the beginning of the universe up to today. There's a chapter on "machineries of noise," like the steam engine, sounds of war, and the noise of new technology like the automobile and telephone. He even discusses information about noise underwater and its impact on marine life. If you want to learn about noise–where it comes from, the study of it, its impact on people and other living creatures, and efforts being made to lessen noise pollution–this book may be for you.