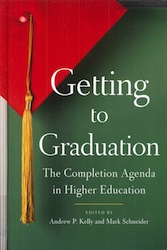 Getting to Graduation:
The Completion Agenda in Higher Education
edited by Andrew Kelly & Mark Schneider
LA227.4 .G49 2012
New Arrivals, 2nd floor
For the past several years, including the latest round of budget talks, there has been plenty of discussion about the Growth Agenda, the University of Wisconsin System initiative aimed at producing more graduates from UW schools over the next decade. Much of it centered around helping students not only get to college, but stay in through receiving the degree. This week's featured title should shed some light on the focus of a major point of contention in higher education.
Kelly and Schneider, researchers at the American Enterprise Institute for Public Policy, pulled together a number of chapters from leading thinkers in higher education to address the issues and challenges with getting all students to walking across the stage. The scholars address the topics of America's lagging performance against the rest of the world, the effectiveness of sub-baccalaureate (two-year / community college) programs, and the barriers to completing degrees, such as financial aid and credit transferability. There is also consideration from a public policy standpoint, examining three cases from Ohio, Texas, and Colorado, all with possible implications for government. This book serves as an excellent starting place for researching a current debate that impacts our society.