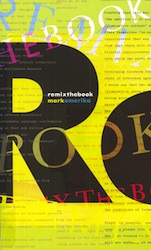 Remixthebook:
by Mark Amerika
PS3551 .M37 R46 2011
New Arrivals, 2nd floor
I don't watch much television, but I will admit here that I do watch one show religiously: Glee. That's right – I'm a total Gleek, and I'm not ashamed. Of course the story lines are riveting, and the singing is pretty awesome. However, one of my favorite things about the teen dram-com is the song selection, and more specifically, the mashups. This week's featured title dives into the culture of putting your own spin on the original.
Amerika, an art and art history professor at the University of Colorado at Boulder, pushes the envelope with his latest work. Remixthebook, as explained in the introduction, is more of the print version that grew out of a multimedia project from his Professor VJ blog. The digital technology revolution has not only given people access to information, it has given them power to manipulate it and make it their own. The author/creator does this as well, remixing the work of the likes of Allen Ginsberg and William S. Burroughs. This book also serves as a call to everyone to collaborate in the discourse of mashing up popular culture, through the book's companion website.