On November 11, we celebrate Veterans Day. President Woodrow Wilson proclaimed the Armistice Day holiday in 1919, on the first anniversary of the armistice that ended World War I (at the time it was called the "Great War"). In 1938, Armistice Day became an official national holiday and in 1954 its name was changed to Veterans Day, to commemorate all veterans of the U.S. armed forces. [Encyclopedia Britannica and Wikipedia.org].
The Library is currently conducting displays of books and videos relating to veterans and the military in the Lobby and across from the Circulation Desk. If you see anything you'd like to check out, ask at the Circulation Desk and they will help you out.
The Library has many more books and DVDs on military topics. Here are a few HALCAT searches to identify books and videos on topics related to veterans and the military: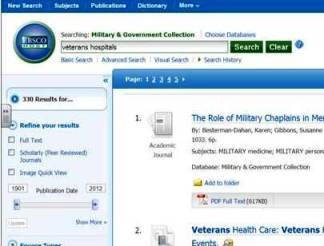 EBSCO's Military & Government Collection offers news related to all branches of the military and government from 300 full-text publications.
But many other library databases will include topics of interest to veterans, active service members and anyone researching military topics. For instance, Historical Abstracts, America: History and Life and JSTOR all include articles from military history journals. And other subject-specific databases will include articles related to veterans and the military from the perspectives of their fields.
For assistance with your research, Reference librarians are available in to help you in person, by phone or via online chat.