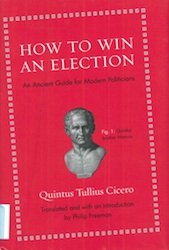 How to Win an Election:
An Ancient Guide for Modern Politics
by Quintus Tullius Cicero
HD58.7 .P7427 2012
New Arrivals, 2nd floor
The race to the White House is nearing the finish, with early voting underway and the polls opening up next Tuesday. Regardless of which side you choose, there's a voice from the past that has some advice on the matter of coming out on Wednesday as victorious.
Quintus Cicero looked out for his brother, the Cicero of ancient Rome, as the famous orator made his political debut. He showed his care by writing him a letter with pointers for ensuring triumph. His advice still rings true a few thousand years later and can serve of a quick primer on election success. What's also unique about this book is that it includes the original Latin text of Commentariolum petitionis and the accompanying translation side by side. You get a politics and language lesson in one easy place!