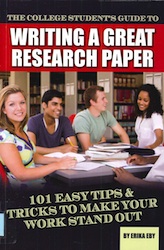 The College Student's Guide to Writing a Great Research Paper:
101 Easy Tips & Tricks to Make Your Work Stand Out
by Erika Eby
PE1408 .E296 2012
New Arrivals, 2nd floor
Things are picking up with the semester, and the Reference Desk is no exception. What does that mean? That means that it's the point when you're starting to think about that paper that's due at the end of the term. Freaking out yet? Maybe you should take a peek at this week's featured title?
Eby, a graduate of Carthage College and writer, offers up some timely advice to improve the research paper writing process, which most students would consider the bane of their academic careers. She covers the entire gamut from start to finish, from the idea generation to the information gathering to the actual writing and formatting. The author obviously knows her stuff, as evidenced by tip number 30 [befriend your librarian], stating, "many students underestimate how useful libraries are, especially with a new generation of students entering college who are more familiar with using the Internet to find the answers to most of their questions." [page 86] Written in an accessible, peer-to-peer tone, even the most seasoned students should be able to take away some valuable advice to enhance their research paper.