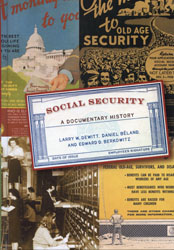 Social Security:
A Documentary History
by Larry DeWitt, Daniel Béland & Edward Berkowitz
HD7125 .D495 2008
New Book Island, 2nd floor
With the recent tumultuous financial market performance, many people are concerned about their futures, namely, their retirement. While some have separate accounts to fund their non-working lives, others have relied on the subject of this week's featured title, social security.
DeWitt, public historian at the US Social Security Administration, along with Béland and Berkowitz, professors at the University of Calgary and George Washington University, respectively, have compiled an excellent resource on the formation and development of the social welfare system created by the Social Security Act in 1935 and signed into law by President Franklin D. Roosevelt. While the authors do provide an introduction about the history and evolution of the program, the meat of the content is devote to primary source documents, the actual legislative materials that have guided the policy's administration over the years. There is also an annotated bibliography for further research. Overall, Social Security: A Documentary History provides an outstanding reference for those researching the government program.
As an aside, the Wisconsin Historical Society at UW-Madison houses one of the three major Social Security collections used in gathering sources for this book.