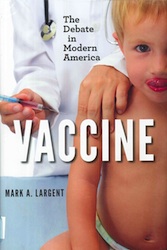 Vaccine:
The Debate in Modern America
by Mark Largent
RJ240 .L37 2012
New Arrivals, 2nd floor
As I walked past Walgreens the other day, I was reminded to get my flu and shingles shots. [I didn't take them up on their kind offer to poke me with needles.] These preventative health measures sound good, but do the benefits outweigh the potential risks? This week's featured title examines the medical treatments under the microscope on both sides of the issue.
Largent, history professor at Michigan State University, tackles the controversy revolving around vaccines, particularly for children. As the author states in the introduction, the mandated number of vaccinations for children under the age of six has tripled since 1990, and this rise has caused fear and unease on the part of parents wanting the best for their babies. He investigates the issues surrounding the debates, namely the hyped connection between the immunizations and autism. Largent also offers recommendations going forward, as this concerns everyone from the parents and physicians to politicians and public health officials.