The emerald ash borer is a lethal threat to ash trees, and has been found just 20 miles from Whitewater. This is bad news for anyone (like me) who has an ash tree in their yard.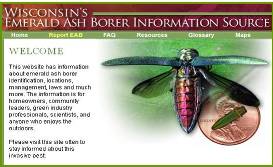 Bill McNee from the WI Dept. of Natural Resources will talk about what we can do at an emerald ash borer forum on Thurs., Oct. 4, at 6:30 p.m. in Hyland Hall's Timmerman Auditorium.
There's also "Wisconsin's Emerald Ash Borer Information Source" online with a lot of information, including how to identify an ash tree and whether it's infested, suggestions for homeowners, and maps and a list of communities where EAB has been confirmed.
Andersen Library has additional resources. A search of HALCAT will find a few titles, such as Emerald ash borer: The green menace (online federal government document). Searching article databases will find articles including "Economic Analysis of Emerald Ash Borer (Coleoptera: Buprestidae) Management Options" (2012, Journal Of Economic Entomology, vol.105:no.1, pp.196-206), "Alternatives to Ash" (2012, American Nurseryman, vol.212:no.2, pp.6-9), and "…The Bug That's Eating America" (2011, July 11, Time, pp.56-59).
If you would like assistance with finding additional materials, please ask a librarian.
Andersen Library is a federal and Wisconsin depository library with many federal and state government documents on a variety of current and relevant issues available to you in print, microfiche, CD-ROM, and online. Check out your government at Andersen Library!