Check out the new web site of the Irvin L. Young Memorial Library (Whitewater's public library at 431 W. Center St.)!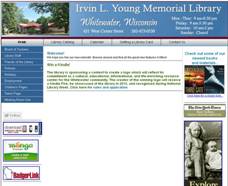 The ILYML is also "sponsoring a contest to create a logo which will reflect its commitment as a cultural, educational, informational, and life-enriching resource center for the Whitewater community. The creator of the winning logo will receive a Kindle Fire, be showcased at the library in 2013, and recognized during National Library Week." The new web site has a link to get to see the contest rules and application form.
And while your Andersen Library at UWW has collections of books for your leisure reading and children's books, the ILYML wants to be UWW students' public library away from home, so you can check out materials from its collections too. Information about getting a card for the public library is provided on its web site.