Interested in data about how many people in the U.S. are online and what they are doing there? Are they using broadband? Are they using mobile technology? Wondering about how smartphone users are using their phones? Who is using social networking sites and how often?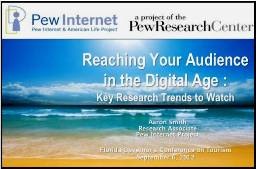 Well, you're in luck!
The Pew Research Center's Internet and American Life Project has posted a slideshow, "Reaching Your Audience in the Digital Age: Key Research Trends to Watch". The data was obtained from surveys of adults in the United States conducted on landlines and cell phones.
An interesting tidbit for us librarians is that users typically assume that information is free (slide 37), while in reality academic libraries like Andersen Library spend significant amounts of money subscribing to databases that deliver articles, data, and more to our students and faculty/staff.
If you'd like to learn more, Andersen Library can help. Search the catalog for books and the article databases for articles. If you'd like assistance, please ask a librarian.
Among the resources you can find are these: an online federal government document, Digital Nation: Expanding Internet Usage (2011), a book called The young and the digital: What the migration to social-network sites, games, and anytime, anywhere media means for our future, and an article such as "The acceptance and diffusion of the innovative smart phone use: A case study of a delivery service company in logistics" (Information & Management, 2009, vol.46:no.4, pp.241–248).
Andersen Library is a federal and Wisconsin depository library with many federal and state government documents on a variety of current and relevant issues available to you in print, microfiche, CD-ROM, and online. Check out your government at Andersen Library!