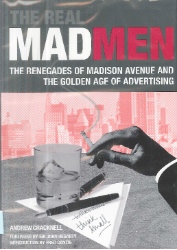 The Real Mad Men:
The Renegades of Madison Avenue and the Golden Age of Advertising
by Andrew Cracknell
GV776 .W6 S8 2012
New Arrivals, 2nd floor
When meeting new people, it seems like one of the default icebreakers is television shows. Everyone watches TV, right? I mean, it may not be through an actual television set, but it's still the content. Several of my recent conversations have included the featured show of this week's New Stuff Tuesday.
Cracknell, an industry veteran with over forty years of experience, brings his insider information to the table in detailing the Creative Revolution. The late part of the fifties proved to be a turning point in advertising, and the author looks at the events and the people involved in its transformation. Peppered with visual elements, Cracknell shows just how the show compares to just how it went down at the time.