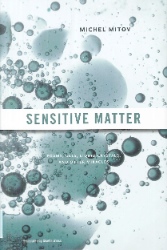 Sensitive Matter:
Foams, Gels, Liquid Crystals and Other Miracles
by Michel Mitov
QC173.458 .S62 M5813 2012
New Arrivals, 2nd floor
Think back to when you were a child. Were you just as fascinated with personal hygiene as I was? You have soap that would rub off on your skin and make bubbles and shampoo that would end up covering your hair in a thick lather. And don't even get me started on hair gel – how it works, I don't know, but it's magical. This week's featured title discusses the wonders of liquids and their superpowers.
When Mitov, a physicist and Director of Research at the National Center for Scientific Research in France, talks about foams and gels and more, he's not dealing with a touchy subject. Everything from red blood globules to plastics depend on sensitive, of soft, matter. Dr. Mitov explains the curiosities of science that have revolutionized our world, like how paint dries and the accidental addition of sulfur to latex, creating durable rubber. This short tome enlightens readers on phenomena that surely have made them stop and think about how it all works.