On July 5th in 1996, Dolly the sheep (the first mammal successfully cloned from an adult cell) was born in Scotland. This sparked all kinds of hope and controversy. Hope for medical breakthroughs and perhaps a way to save endangered species. Controversy about human cloning and bioethics.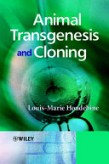 You can learn more about it! The web site of the publication Nature has an online archive of articles about Dolly the sheep, including her obituary. Search the article databases for more, including, "Viable offspring derived from fetal and adult mammalian cells" (Nature, 1997, vol.385, pp.810-813) and "Cloning: An overview of issues, policies & legislation" (Journal Of Punjab Academy Of Forensic Medicine & Toxicology, 2009, vol.9:no.1, pp.16-20). Or search HALCAT (Harold Andersen Library's catalog) to find books such as Clone: The road to Dolly, and the path ahead (3rd-floor Main Collection, QH442.2 .K65 1998) and Animal transgenesis and cloning (online via EBSCO eBook Collection).
Please ask a librarian if you'd appreciate assistance with finding materials.