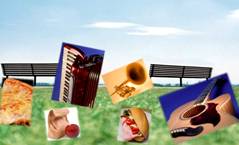 Looking for something to do in Whitewater this summer?
The Whitewater Arts Alliance is sponsoring a Savory Sounds series of music and food at the Birge Fountain (lawn of the Cultural Arts Center at 402 West Main Street) on Thursdays, from 11:30am-12:45pm. Bring your lunch, or purchase one from the lunch vendor of the day. Then peruse the art exhibit in the Cultural Arts Center (open noon-5pm on Thursdays).
June 21: Daylillies (women's a capella group), lunch vendor Subway
June 28 (RESCHEDULED to Aug. 2)
July 12: The Dirty Bucket Band (bluegrass), lunch vendor LaPreferida Mexican
July 19: UW-W Faculty Brass Quintet, lunch vendor Black Sheep
July 26: Jay Crags & Friends (jazz), lunch vendor Rocky Rococco
Aug. 2: Steve Meisner & Friends (polka), lunch vendor SweetSpot
More information is available from the Whitewater Banner or the Whitewater Arts Alliance.
Also check out free concerts and family fun in the Cravath Lakefront Park on Thursday evenings (bring your lawn chair and/or blanket):
June 21, 7pm: The Dang-Its
July 12, 5:30-7pm: "The Big Bounce" and Big Rig Gig (don't need lawn chairs for this one)
July 19, 7pm: The Fort Atkinson Community Band
August 2, 7pm: The Bel-Cats
August 9, 7pm: David Stokes
August 16, 7pm: Piper Road Spring Band
More information is available in the Whitewater Parks & Recreation Summer Guide 2012. The guide contains other opportunities, like renting kayaks or paddleboats at the Cravath Lakefront or open gym hours at the Old Armory.