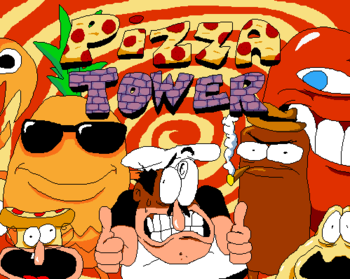 Pizza Tower is a 2D platformer inspired by Wario Land and Earthworm Jim. In the game, you play as a pizza man named Peppino who must fight his way through towers by finding keys and toppins in order to progress and get a high score.

As of writing the game is still in development, and probably won't be finished for a while, however, there are a number of demos for players to get a taste of what the game will become. Most of these are only available if you support the creator on Patreon. However, there are still 4 public demos that can be easily accessed and played, and I will talk about those now.
Pizza Tower SAGE2019
The most popular and fleshed out of the public demos would have to be the SAGE2019 demo.

In this demo, Peppino finds himself at the Snick Amateur Game Expo, and to try and make the most of his time there he decides to play all the levels there.

As of now, this is the longest of the publically available demos with 3 levels and a challenge level after beating all three, and I would recommend playing this one first as two other demos remix levels from this one.
GOLF
Golf is a one-level demo that was made for April Fools Day and involves Peppino trying to throw a Greaseball into a goal in order to progress.

Despite being made for April Fools Day the demo the level present is actually really well made and trying to get the Greaseball in the goal in as few rounds as possible serves as a nice challenge.

It is worth noting that the game has many of the same mechanics as older builds, but if you can get past that then this should be an enjoyable experience.
Noise's Hardoween
Noise's Hardoween is a demo in which you player through the a harder version of the SAGE level Pizzascape, now known as Pizzascare as the Noise.

The Noise is basically a spoof of the Noid and in previous demos exists to get Peppino in trouble for his own amusement. Here he plays the same as Peppino only rather then having a taunt button he has a dab button.

This is easily the most difficult of the public demos and will really test the players skills, but overall is a unique take on an old level.
Pizza Tower: Peppino's Xmas Break
Finally, we have Peppino's Xmas Break, a demo in which Peppino is kidnapped by the Noise dressed as Santa Claus and must fight his way through a harder version of Bloodsauce Dungeon.

Just like how Hardoween adds a Halloween aesthetic, this one offers a Christmas aesthetic with custom toppins and is also the first public demo to have a boss fight with the Noise. As of now, this is the last of the public demos for Pizza Tower.
Conclusion
And there you have it, a collection of demos for you to try. There are a few other ones out there like a 2018 build and various Patreon builds, but I mainly wanted to focus on these as they are all easily available through itch.io.

If these demos appeal to you feel free to try them out and let me know your thoughts in the comment section below.