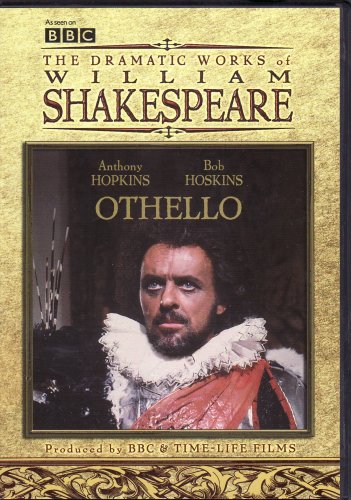 Othello
(BBC & Time-Life Films)
by William Shakespeare
Call number: OTH
New Arrivals, 2nd floor
While this isn't a new production (1981), it is a new addition to our collection, and the BBC's series of all of Shakespeare's plays is worthy of note, especially since in it we have some of his lesser-known and lesser-filmed plays. I personally had neither watched nor read this one of the Bard's tragedies, and my only prior knowledge was that Othello is Shakespeare's only minority protagonist, and that the antagonist Iago is sometimes considered Shakespeare's most evil villain. Curious….
Anthony Hopkins (one of many actors to play the hero in blackface) is a compelling lead. While we don't hear much dialogue from him in the first few acts, by the third act you have enough insight into his character to pity his tortured thoughts while also shaking your fist at his jealousy-inspired cruelty and impetuousness toward the beautiful Desdemona – played by the young Penelope Wilton, who might be more familiar to audiences today from a major role in Downton Abbey. Iago's hatred for his once-beloved army commander is maniacal and nonsensical enough to earn him the "darkest villain" title in my book.
True to Shakespearean tragedy, the only characters I really liked by the end get killed along with some others, but I won't spoil the ending for you. At over 3 hours, this film may not be one to sit down and devour in one sitting, and the close captions definitely were needed for me to follow the dialogue in some quieter scenes. But I enjoyed the story and the acting and am sure the other films – see the link above – in the series are just as good.