Written by Ashley Roscoe
Happy Summer! My name is Ashley, and I am the Stream Monitoring Coordinator at the UW-Whitewater Sustainability Office. I took over the monitoring program last fall, and have enjoyed every minute of it! Our program has run under the Water Action Volunteers program since 2013, in partnership with the Wisconsin Department of Natural Resources. Normally, we will have volunteers come out to sessions to learn about the program and participate in conducting tests. As soon as the University switched to remote learning due to COVID, we suspended volunteer participation. I have still been going out three times a month (each stream gets monitoring once a month), sometimes with the help of garden and greenhouse manager, Cam.
A new addition to our program has been nutrient monitoring! While we are out at our three creeks (Spring Brook at Willow Brook Golf Course, Bluff Creek at Hwy P, and Whitewater Creek at Fremont St Bridge), we now collect a sample of water. We mix in a small amount of Sulfuric Acid, and then send the sample to the State of Wisconsin Hygiene Lab. From this water sample, the amount of nutrients are able to be calculated. This data is used to determine trends in the waterway, and are able to establish a baseline nutrient level.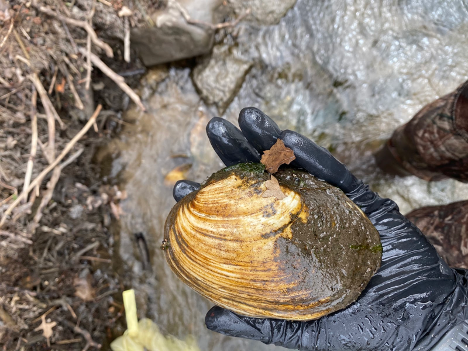 Along with baseline monitoring and nutrient monitoring, we also participate in the Mussel Monitoring Program through the Wisconsin Department of Natural Resources. We mainly search for mussels in Whitewater Creek. Over half of the 52 mussel species in Wisconsin need conservation assistance or we need more information on the location of the species. Through this program, we locate mussels, take photos of the mussels, determine species located, take counts of numbers per species, and then we report these mussels to the Wisconsin Department of Natural Resources. This program helps track mussel populations throughout the state! Mussel populations in Wisconsin were decimated in the late 19th and early 20th centuries due to the button industry. This program helps ensure populations are staying at consistent, healthy numbers.
To learn more about the stream monitoring program, watch our youtube video that outlines more of the program! You can also visit https://wateractionvolunteers.org or https://dnr.wi.gov/topic/SurfaceWater/monitor.html for more information! If you are interested in volunteering with us for stream monitoring, contact the Sustainability Office at sustainability@uww.edu.