School gardens establish a learning environment that allow both children and plants to grow…and the kids seriously dig it.  Throughout the gardening season, children learn through hands-on activities like planting, watering, weeding, harvesting and finally, tasting!  In fact, school gardens actually increase consumption of fruits and vegetables among children.  Since children are in the garden helping the plants to grow, they develop a sense of pride and ownership for the produce which makes them more likely to try the fruits and vegetables that they cared for.  The eating habits they develop in the garden are also more likely to grow and continue into adulthood.  Not only does a school garden increase consumption of fresh produce, but they also promote healthy lifestyles by decreasing sedentary behavior.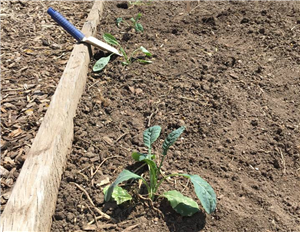 There are all kinds of garden activities that get the students up and active!  Rather than sitting in a classroom they can be out and about in the garden measuring the plants, counting seeds, hunting for insects, identifying plant parts, and much more.  Gardens can be used to teach concepts from just about any subject from science and nutrition to art and math!
Along with giving the children a "living classroom" school gardens also bring the community together.  Teachers, students, parents and community volunteers can work together in the garden which helps to build the children's social skills and self-esteem.  Additionally, the community members can lead healthier lifestyles by staying active in the garden and trying the nutritious produce themselves.
Some school gardens even take the initiative to donate the produce to local food pantries.  For example, the UW-Whitewater Campus Garden is hoping to donate 2,000 pounds of fresh produce this year to the Whitewater Food Pantry.  If you'd like to help, stop by the Campus Garden located between the Ambrose Health Center and the Campus Bookstore on Starin Road.  Summer volunteer times are Mondays 3-6pm, Tuesdays 3-6pm, Wednesdays 9-11am, and Thursdays 10am-1pm.  You can also get involved with the Garden Gatherings at the Lincoln Growing and Learning Garden anytime between 4-6pm on Mondays throughout the summer, all are welcome!
Interested in helping out even more?  There are currently two part-time Wisconsin AmeriCorps Farm to School positions open.  Fort HealthCare is looking for a community outreach coordinator and a nutrition educator.  The community outreach coordinator will work with the Healthy Community Coalitions as well as working to educate food service directors on local and nutritious food choices.  The nutrition educator position focuses on implementing nutrition programs to teach children about establishing healthy eating habits.  Both positions will be involved in the Eat Here Eat Well coalition. Applications are due at 5pm on July 20, 2018.  Visit https://www.forthealthcare.com/farmtoschool/ for more info and to apply.