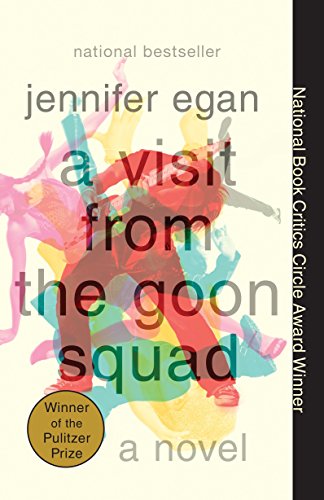 One in a series of reviews contributed by Chancellor Dwight C. Watson
A Visit from the Goon Squad – Jennifer Egan
In 2010, when A Visit from the Goon Squad was published, it was not on my radar. The book came to my attention when I read in Entertainment Weekly that this book was selected as the number one book of the decade, I had just finished reading Nickel Boys by Colson Whitehead, another book I reviewed for the blog. Nickel Boys was listed as number 10 on the Top 10 List of the Decade. I was so enamored by the 10th book on the list so why not read the 1st book on the list. I immediately asked my sister to send me the book as my 2019 holiday present. Much has happened since receiving the book and me reading it, but boy what a read!
When Entertainment Weekly staffers had to compose their lists, by a wide margin, the book most often and most passionately cited was A Visit from the Goon Squad by Jennifer Egan, the 2010 masterwork that won the Pulitzer Prize. One staffer captured the book as "Philandering fathers, washed-up rock stars, bipolar celebrity profilers, slumming rich kids, and kleptomaniacs: There's a sliding scale of human frailties in A View from the Goon Squad (one character is actually being paid to whitewash a murderous dictator's reputation, but who's keeping score?). Jennifer Egan's 2010 masterwork — it won both the Pulitzer Prize and the National Book Critics Circle Award — remains a sui generis achievement, even almost a decade after its release; if her playfully postmodern catalog of delinquents, kooks, and schemers seemed at first merely eccentric for its own sake, the telling of it proved otherwise: a book as rich and resonant as any linear classic in the canon"
The reason I liked this review above all others was that it touted the book as a liner classic to the canon. The book that I always viewed as the most linear classic to the canon is Catcher in the Rye which I have reread every five years since 1980 and have given a copy to every niece and nephew as they headed off to college. Now, I have to start giving A Visit from the Goon Squad to their children.
Often, I am asked had I not been a school teacher and now a Chancellor, what would I have wanted to be? I quickly say a musicologist or a movie critic. Music and movies have been an entwined part of my life, second and third to books. This book carried me back to my days of attending concerts, discovering new bands at the Beat in Columbia, South Carolina; the Cat's Cradle in Chapel Hill, North Carolina; the Brewery in Raleigh, North Carolina; First Avenue in Minneapolis, Minnesota and most famously, visits to Max's Kansas City, CBGB's, and the Mudd Club in New York City. This book took me back to those endless scenes of new band discovery and enjoying the explosive music scene of the Husker Du, the Replacements, the Pixies, REM and a host of others. As the book stated, "It's 2:00 am, regular people go to bed and drunk crazy, fxxxed up people stay out. And this is when the rock and roll piped shame of all is unraveled."
I think about the past lives and the connecting threads of the folks I have interacted with and how those connections might have lasting effects on a series of others. And if I could capture these interaction and connections, you would be visiting my own personal goon squad. Therefore, I see this book as a treatise to the lives of many who wonder about their past lives, their reinventions, and their experiences and how such confluences manifest into a whole. The book is a series of small vignettes of connected lives presented in non-chronological bits and pieces. It is told through the lens of characters such as one that was "So unaware as of yet that she will reach middle age and eventually die (possibly alone) because she has not yet disappointed herself, merely startled herself and the world with her premature accomplishments."
Another critic captured the buzzy feeling I got from reading this book. "A Visit from the Goon Squad is a book about the interplay of time and music, about survival, about the stirrings and transformations set inexorably in motion by even the most passing conjunction of our fates. In a breathtaking array of styles and tones ranging from tragedy to satire to PowerPoint, Egan captures the undertow of self-destruction that we all must either master or succumb to; the basic human hunger for redemption; and the universal tendency to reach for both—and escape the merciless progress of time—in the transporting realms of art and music. Sly, startling, exhilarating work from one of our boldest writers" (Knopf Doubleday Publishing).
I end this review with a final quote from the book, "I want to know every bad thing you ever done even if it was dangerous and embarrassing." Imagine if your child or one of our college students asked us this question. How would you answer? Read this book for no other reason than to unpack this question.