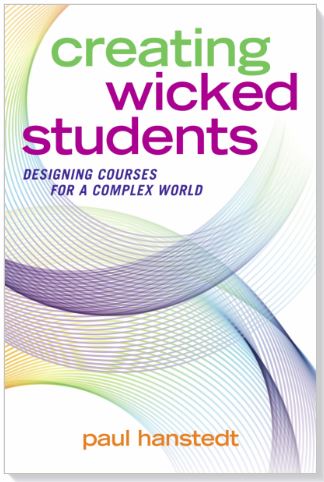 Creating Wicked Students:
Designing Courses for a Complex World
by Paul Hanstedt
LB2395.35.H37 C74 2018
New Arrivals Island, 2nd floor
Geared toward an audience of post-secondary educators, Hanstedt offers a fresh lens through which to view and guide our course design. He credits Edmond Ko, an engineering instructor, with using wicked in the context of problems, solutions, and competencies. Since students are often faced with wicked problems, that is "situations where the parameters of the problem and the means available for solving them are changing constantly" (p. 3), they need wicked competencies in order to address them. Years ago, few would have imagined how quickly fake news might spread on social media platforms, legalization of gay marriage, or the Zika virus, for example. How can students learn the content and skills of a course, and enter the post-college world able to apply it, question it, and possibly propose solutions that may lead to reinventing it to address such issues?
Handstedt walks us through how we might rethink our purpose, set goals for our courses and restructure them. Chapters are designed to guide the instructor through assignment creation, creating authoritative exams, and day-to-day teaching methods. Finally, he provides examples of assignments which provide opportunities for assessing wickedness.
For an overview of wicked design and examples, view Handstedt's presentation or listen to his Teaching in Higher Ed podcast episode.