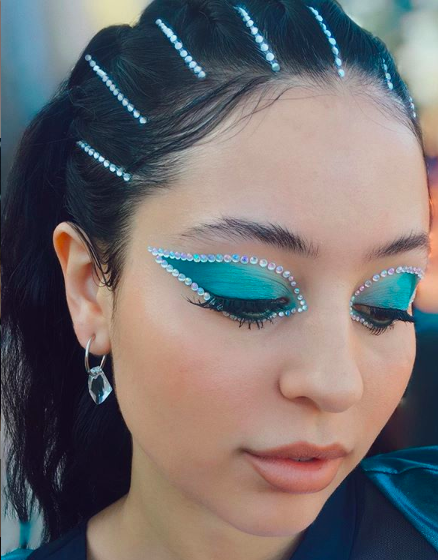 Halloween Makeup Tutorial
Its finally October which means you are starting to think about what you want to be for Halloween this year. Makeup can take your Halloween costume to a whole new level. Halloween makeup can be challenging but with these tips and tricks you will recreate this look with ease! Most people have watched the recent show "Euphoria". The makeup in this show is amazing to say the least. I have decided to pick a specific look from the Euphoria show so you can be Maddy this Halloween! You can see the makeup look in the featured picture. This look is all about gems and sparkles! First you are going to put an eye shadow primer on your lid for this intense look. From there you are going to take any eye shadow brush and place a nude color all over your lid and bring it outside the corner of your eye like a triangle. You do not need to do this perfectly because I have a trick we will use to clean it up. After you apply the nude color all over your lid you are going to grab a light green color eye shadow and place it in your inner corner. Then you are going to take scotch tape and place it in the outside corner of your eye and bring it out towards your temple. Then take another piece of tape and make a triangle point on the side of your temple and cut it so the tape doesn't go past your lid. Once you have the triangle shape made you are going to take a blue color and place in all inside the tape. You are going to bring the blue into the green and blend it so the two colors combine. Then you are going to take the tape off and grab a makeup wipe. Once that is done take the makeup wipe and wipe off the access color so that you are making the shape that the featured picture demonstrates. Then you are going to grab your gems. Take your tweezers and put a little bit of clear nail polish on the tips to pick of the gems on the sparkly side. Then dip the bottom of your gem in clear eyelash glue. Place the gems all around the outside of your eye shadow. Once you have created the gem boarder around your eye shadow you can add mascara and eyeliner to both the top lash line and bottom. To spice up this look add gem bobby pins to your hair like the picture shows! This look will bring out your inner bad girl just like Maddy from Euphoria! This makeup will make a statement this Halloween.
Eyeshadow Pallet: James Charles Pallet/Morphie Link: https://www.sephora.com/ca/en/product/the-james-charles-palette-P442928 Gems: Amazon Hair Clips: Amazon Any eyeliner and mascara work!
Image from: https://www.elle.com/uk/beauty/make-up/a28758735/euphoria-makeup-inspiration