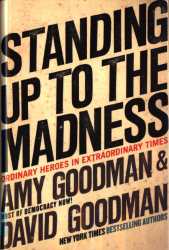 Standing Up to the Madness:
Ordinary Heroes in Extraordinary Times
by Amy & David Goodman
JK1759 .G585 2008
New Book Island, 2nd floor
Back in March, I highlighted a new book on the topic of the violation of civil liberties and examples of people in their everyday lives experiencing these transgressions (view original post). In a coincidental follow-up to that post, this week's New Stuff Tuesday puts the spotlight on people like you and me stepping up to the plate and challenging authority.
The Goodman siblings (Amy is host of Democracy Now! and David is an investigative journalist) detail the struggle of US citizens against the government. The individuals profiled are from across the country and have sought justice in the face of adversity. Stories include librarians (that's right, LIBRARIANS!) that wouldn't allow the FBI to violate patron privacy, the students involved in the Jena Six case, and the soldier that refused to be deployed to Iraq based on his claim that the US was engaged in an illegal and immoral war. All in all, it shows that people like you and me really can effect change.