Susan Jacoby will speak on Wed., Oct. 1st at 7 pm in Young Auditorium as the first 2008/2009 Contemporary Issues Lecture (sponsored by the College of Letters & Sciences).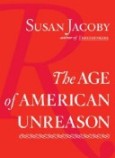 According to the lecture web site, Jacoby's book The Age of American Unreason (3rd-floor Main Collection, E169.Z83 J33 2008) challenges Americans to face the painful truth about what our descent into intellectual laziness and our flight from reason have cost us as individuals and as a nation.
If UWW's copy of the book is checked out, UWW students, staff and faculty may borrow it from other UW libraries by using the free Universal Borrowing service. Other books by Jacoby are available from University Library and other UW libraries also.
Some of Jacoby's articles in periodicals and newspapers may be found by using Library article databases, e.g., searching for her as an author in Academic Search Premier finds articles including: "Religious Correctness and the American Press" in Free Inquiry (Apr/May2004, pp. 37-39) and "In Praise of Secularism" in Nation (4/19/2004, pp. 14-18).
She regularly contributes to "On Faith," a Newsweek/Washington Post blog on religion.
Additional information about Ms. Jacoby is available from the susanjacoby.com web site.