Dr. Reginold Royston, faculty at UW-Madison's iSchool and the Dept. of African Cultural Studies, will talk about "Rethinking Race and Technology: Digital and Diasporia Studies" on Thurs., Nov. 9, 2017, from 3:30-4:30pm in UC 259. It's part of the African American Heritage Lecture Series.
You can learn more about Dr. Royston at his public website. His dissertation "Re-Assembling Ghana: Diaspora and innovation in the African mediascape" is available online via University of California-Berkeley. An abridged version of his chapter, " At home, online: Affective exchange and the diasporic body in Ghanaian internet video" in the book Migrating the Black body: The African diaspora and visual culture is available from his website, and UWW students and faculty/staff may obtain the book from other UW campus libraries via the free UW Request service. Requested items arrive in 2-5 weekdays.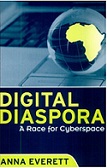 If you would like to learn more, Andersen Library may be able to help! Among resources available are books such as Digital diaspora: A race for cyberspace (3rd-floor Main Collection, QA76.9.C66 E95 2009; preview some text at Google Books), the chapter "Redefining "Africa" in the diaspora with new media technologies: The making of AfricaResource.com" in the book The new African diaspora (online via Project MUSE; preview some text at Google Books), and Diasporas in the new media age: Identity, politics, and community (online via ProQuest EbookCentral); articles including "Performing patriotic citizenship: Zimbabwean diaspora and their online newspaper reading practices" (Journal of African Media Studies, 2014, vol.6:no.1, pp.91-109, doi:10.1386/jams.6.1.91_1), "Diaspora, digital media, and death counts: Eritreans and the politics of memorialisation" (African Studies, 2013, vol.72:no.2, pp.246-264, doi:10.1080/00020184.2013.812875), and "Rethinking migration in the digital age: Transglocalization and the Somali diaspora" (Global Networks, 2017, vol.17:no.1, pp.23-46, doi:10.1111/glob.12127).
If you'd like assistance with finding additional information, please ask a librarian (choose chat or email, phone 262-472-1032, or visit the Reference Desk).