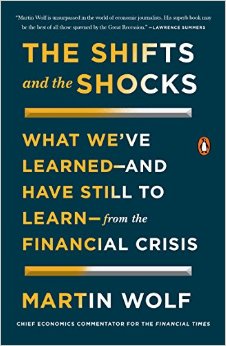 The Shifts and the Shocks:
What We've Learned – and Have Still to Learn – from the Financial Crisis
by Martin Wolf
HB3722 .W63 2014
New Arrivals, 2nd floor
The Great Recession of 2008 inspired the writing of many books on the US economy. Martin Wolf, associate editor of the Financial Times, adds to the literature with The Shifts and the Shocks, providing a thorough analysis of the causes of the economic breakdown as well as detailed (and dramatic) plans for fixing the global economy. Wolf examines the global landscape before and after the crisis, highlighting the eurozone and its remaining struggles, which signal the economic crisis has not completely passed. There is still work to do if we want to avoid another economic meltdown. The book is a little heavy-handed with economic lingo, but it offers an important perspective on macroeconomic policy. It also includes an abundance of notes and references if you're interested in learning more.
Check out Wolf's previous book, Why Globalization Works, available in Andersen Library's Main Collection.