Governor Doyle named October 2007 Archives Month in Wisconsin.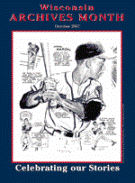 2007 is the 10th year Archives Month has been celebrated. There is a different theme every year, and this year's theme is "Celebrating our Stories," which is broad enough to include personal records such as photographs as well as official records of communities, business and civic organizations, and government institutions.
The University Library manages the University Archives. It contains historical records from the campus, ranging from paper files (LOTS of paper files, like personnel records) to hats (yes, I said hats) to photos & slides. Questions about the archives may be emailed to archives@uww.edu, or call the Archives at 262.472.5520 between 9am and 5pm Monday-Friday.
More information about Archives Month is available online from the Wisconsin Historical Society.