By: Aaron Xiong
With the clay season underway for both men and women's professional tour, all eyes turn to the King of Clay, Rafael Nadal. Due to COVID-19 and injuries, Rafael Nadal has yet to play an ATP match since his Australian Open quarterfinal battle against Stefanos Tsitsipas from Greece where he loss in five excruciating sets.
Despite his recent back injuries, Nadal is looking to begin his clay season campaign at the Monte Carlo Masters 1000 tournament. The Monte Carlo Masters is the first of three Masters 1000 events played on clay. The Spaniard holds the record for most Monte Carlo Masters 1000 titles with 11 titles. Nadal won eight of his 11 titles in a row from 2005 – 2012 and the last three in a row as well from 2016-2018.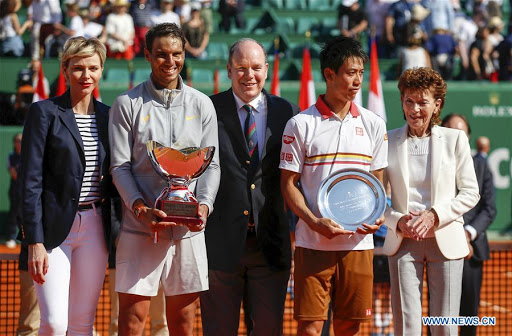 However, Nadal is not alone in Monte Carlo as other big names such as world number 1 Novak Djokovic and world number 2 Daniil Medvedev and others join the playing field. On a surface where Nadal is seemingly unbeatable, few have been able to say they have won a match on clay against the legend. Nadal has won an outstanding 71 of the 76 matches he's played at the Monte Carlo Masters and is seemingly indestructible in Monaco.
Despite out of this world numbers at all four major clay tournaments, Nadal's back injuries may stop him from completing a successful clay season. With a playing style that involves several athletic movements, Nadal has been at the center of numerous injuries throughout his lengthy career. No matter, the 20 time Grand Slam champion has proven time and time again that injuries won't stop him from winning a tennis match.
Nadal has stated that he hopes to be in tip top shape for this French Open where he is the reigning champion having won the last four French Opens from 2017-2020. Although playing the Monte Carlo may ignite the back injury again, the Spaniard hopes to play a full clay season starting in Monte Carlo.
As all eyes turn to the King of Clay, only time will tell if his back will withstand the battle on the dirt.