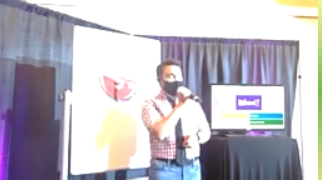 Do you have any idea how many fluid ounces are in a quart? How about who wrote the star-spangled banner?
If you know the answers, consider playing "Are You Smarter than a Fifth Grader" trivia like students did Sept. 14 in Warhawk Alley and virtually through Kahoot gaming software.
In total, 66 participants made up 33 teams. The teams that finished in the top three were awarded prizes including bluetooth headphones, new backpacks, and vouchers for h'EAT and Fire restaurants.
Each question had two to four answers to choose from, and the faster you selected your answer, the more points you received. There were a total of thirty rounds and the scores accumulated over the course of the game. Students appreciated how well the event was organized and thought it went smoothly.
"I enjoyed the event and thought that it was really well done. The organizers did a great job of listening to the audience and making the proper adjustments so that we were able to fully enjoy the game," said participant Jacob Trunk. "It was also nice that there weren't any problems to note, which shows that those running the event did a fantastic job!"
Alex Michaelsen, the trivia coordinator at Warhawk Alley planned, organized, and executed this event end-to-end with help from colleagues.
I need to give a huge thank you to Michael Garcia from UC Entertainment for all of his help on this event. He and I collaborated on making the questions and putting the Kahoot quiz together," Michaelsen said. "Overall, I think it turned out great! It was high energy, we had a lot of interaction between our fellow Warhawks, and lot's of people playing along with their friends."
Everyone seemed to have a good time – especially the winners. Jessie Peters is now a trivia champion being on the team that was crowned victorious.
"The event was really entertaining, and we were surprised to finish first after a very close game," said Peters. "We had a harder time with some of the mental math questions. One question we struggled with was, 'How many fluid ounces are in a quart,?' which was one of the only questions that my team had no idea on. We took a guess and it ended up being right–and that ended up being the question that earned us the win!"The next trivia event is scheduled for Monday, Oct. 5, at 7:00 p.m. The theme will be Early 2000's Disney Channel Original TV Shows Trivia. If you were a fan of The Suite Life of Zack and Cody, That's So Raven, The Proud Family, and more, you could be the next trivia champion.