Combining two timeless trends: tie-dye and scrunchies! This craft is perfect for the summer, whether you do it on your own with friends, at a birthday or a grad party, at summer camp, the opportunities are endless!
I recommend purchasing a tie-dyeing kit if it's within your budget! That way it would come with your dye, rubber bands, and even bottles or gloves you may need depending on what kit you get. For this craft you will also obviously need some white scrunchies. 100% cotton is the best for dyeing. I purchased my pack of scrunchies on Amazon for less than $10.
Necessities:
Some sort of vinyl gloves (not fabric)
White 100% cotton scrunchies
Fabric dye for tie-dyeing
Bottles to squirt dye out of
Rubber bands (mini sized preferably)
Plastic/Ziplock bags (one for each scrunchie)
Some sort of underlay for your workstation, for example:

A large old t-shirt you use for painting
Step 1:
Wash your scrunchies! It's always best to wash your materials before dyeing just to make sure they are clean of any unwanted residue that may be on them. You can wash them in the washing machine like normal laundry or quickly hand wash them with some laundry detergent. I recommend hand washing them so then you can dye the scrunchies when they are still damp, which helps hold the dye better than dry fabric.
Step 2:
While your scrunchies are drying a bit, get your dye together! Gather your dye into bottles you would be able to squirt the liquid out. I didn't have any squirt bottles on hand, so I made homemade ones by taking disposable plastic water bottles and cutting an "x" on their caps. This method worked fine, but if you have squirt bottles on hand, I recommend those instead of making homemade ones.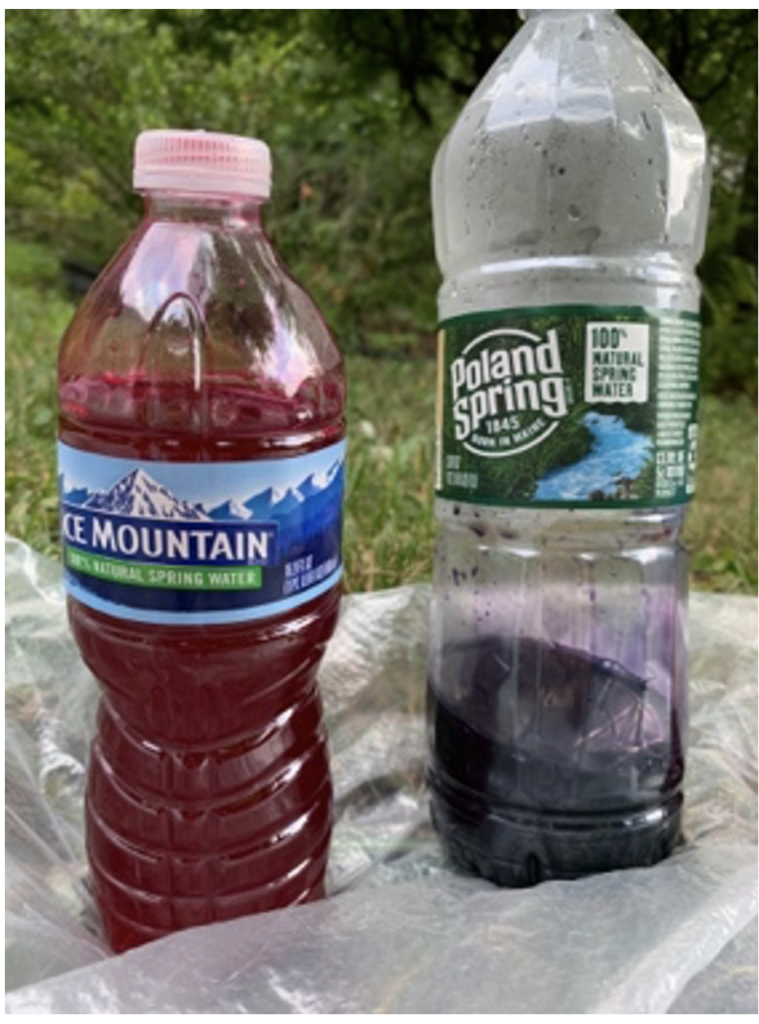 Step 3:
Tie up your scrunchies with a few rubber bands! I used the same method that you would use to tie-dye a t- shirt, and scrunched up my scrunchie and rubber banded it a few times to secure it.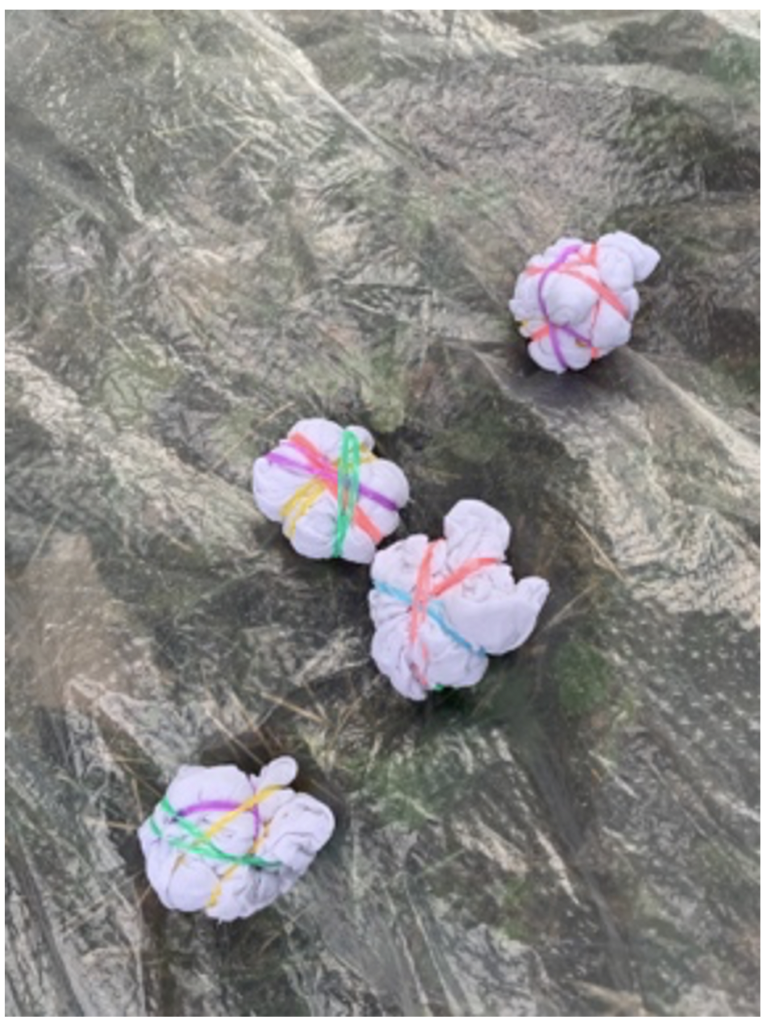 Step 4:
Get your tie-dyeing station set up! I used a large plastic bag as a tarp in my yard to avoid getting the dye anywhere. Put some plastic gloves on and get dyeing! Use your bottles to dye your scrunchies however your heart desires. For some scrunchies I kept it simple with one color, and others I used multiple. Have some fun with it!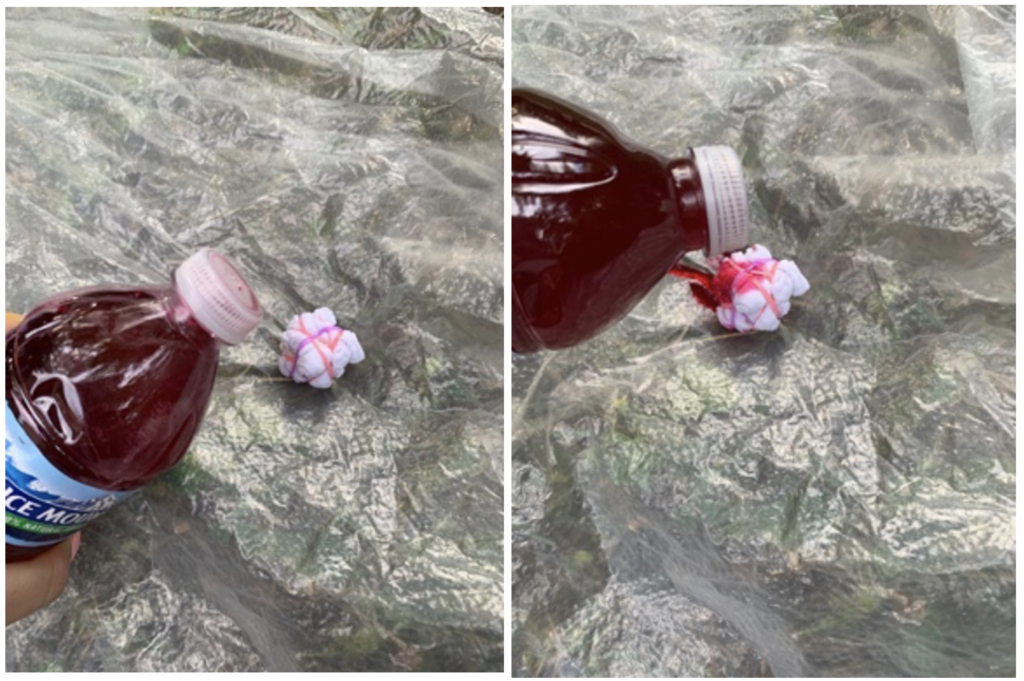 Step 5:
Once you're done dyeing, clean up your station. Place every scrunchie in its own plastic/Ziploc bag to marinate overnight, and a full 24 hours if you can. The longer you let the dye sit on the fabric, the more vibrant and brighter your colors will be.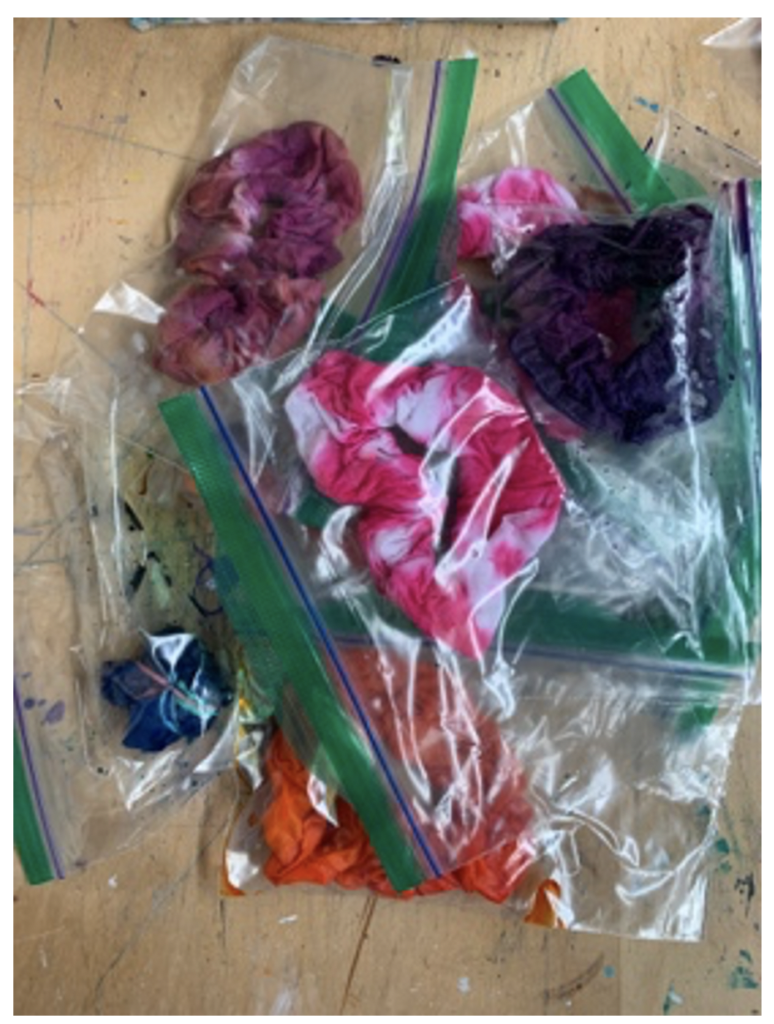 Step 6:
When it's been long enough, preferably the next day, go ahead and rinse out your scrunchies. I recommend doing this in a kitchen sink or bathtub, somewhere the fabric dye wouldn't stain. Make sure to rinse the scrunchies until the water runs clear instead of it being tinted with the dye color. Then, wring out the excess water.
Step 7:
Wash your scrunchies in the laundry machine under a cold water setting. Feel free to let these air dry or put them in the dryer on the lowest heat setting.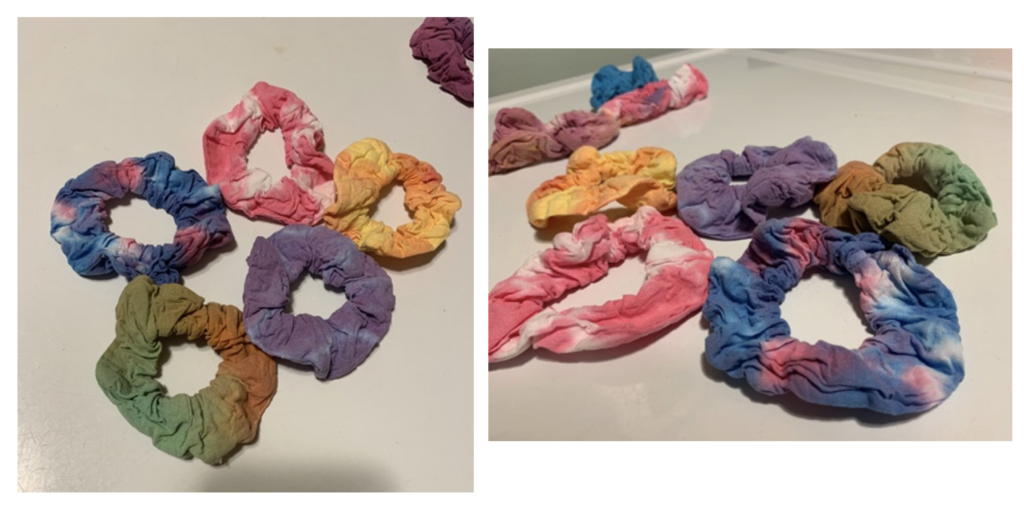 Ta-da! After all of that work, you now have your very own tie-dyed scrunchie! You can try this yourself, a summer party, a girl's night in, or gift them to your friends and family! As always, just keep crafting!