When I started college in 2016, I remember having a convocation to resemble what we were working towards in our time at UW-Whitewater. The Chancellor spoke to our class and we sat much like we would once our time to graduate came. I never would've imagined the change of events that we have seen in 2020. Due to COVID-19 circumstances, the class of 2020 will not have their usual graduation ceremony in person until a much later date to keep everyone safe. While I understand, it is still difficult to accept that my vision of walking across a stage in front of friends and family has turned into what it has. It can be easy to let this ruin our celebrations, but there are still things you can do to celebrate your accomplishments! Graduating college is a huge deal, and there's no reason why celebrating virtually should diminish what you've done!
I have compiled a list of different ways you and your family and friends can celebrate your graduation at home! Let's not let COVID-19 affect our graduation in 2020!
Plan a virtual streaming party
It's not the same, but it can still be special to have a virtual streaming party during the Virtual Celebration of Graduates livestream. Share the details with anyone you want to share your special day with and prepare a video call using services like Zoom, FaceTime, or Skype. Make it feel more like the typical graduation by asking everyone to dress nicely as they normally would have. If you've picked up your cap and gown it can make it feel more real if you wear that during the ceremony! You could even decorate your house with graduation décor!
Take photos with your cap and gown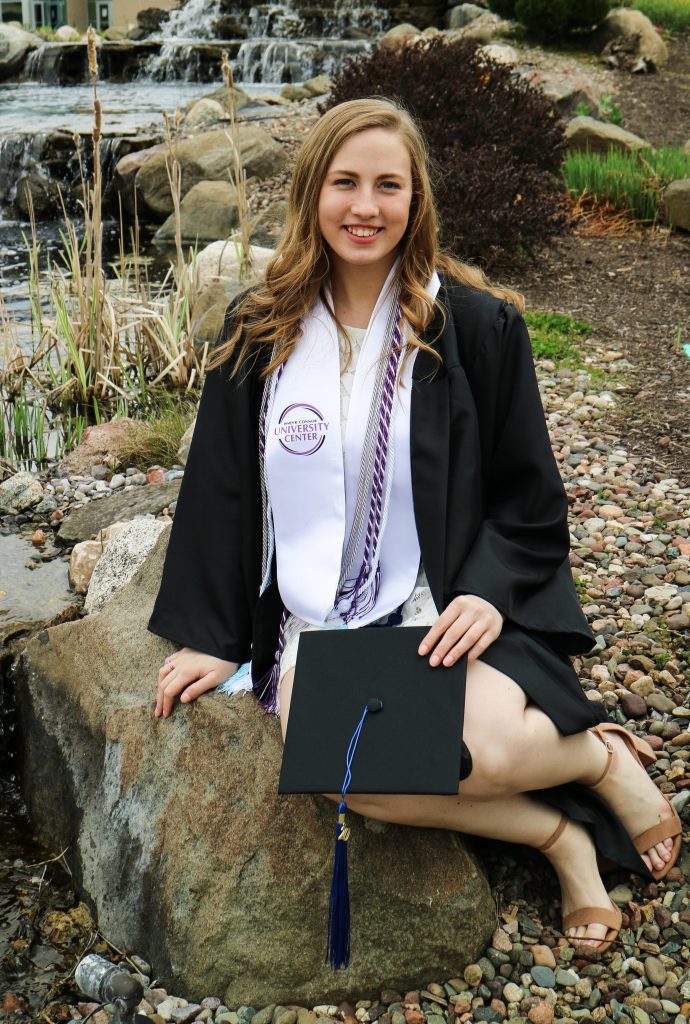 It might feel odd to do so, but something you can do to celebrate your graduation is to put on your cap and gown and take some photos. Everyone on your social media knows your situation is not the usual graduation, so no one should really care that your photos were taken at home. I know for myself, these photos maybe superficial, but they can still provide a sense of normalcy. You always see seniors uploading photos after their graduation, and it can help you feel celebrated in a way. Some students have been doing this but twisting it to make COVID-19 themed by wearing face masks to remember the unique situations that are/were 2020.
Create a graduation wish list
I know it doesn't feel like it right now, but eventually life will go back to some sort of normal. One thing you can do to help get through not having a normal graduation is to make a wish list for everything you want to do once quarantining is done. Do you want to throw a graduation party? Maybe you just want to go out to eat with your family. Whatever it is, make loose plans for what you'll do to properly celebrate your graduation. This can help you feel like there is hope, but also will help you feel more excited about your graduation.
Plan a special meal at home
You can't exactly go out to eat right now, but that doesn't mean you can't have a special dinner or meal with your family to celebrate your graduation. Make your favorite food at home or even get takeout from a local restaurant. Request your family join you for a meal to celebrate your accomplishments.
Decorate the outside of your home
If there's one thing I've learned in quarantine, it's that you're allowed to be proud of your accomplishments in college. It's not bragging to share with others that you've graduated. One way you can celebrate your graduation is by decorating the outside of your house, apartment, wherever, to show the world you've done it! Add some streamers, make a sign, do whatever you want to show people that you've completed a huge accomplishment. You can even make it a fun activity for the people you live with by asking them to help.
Reminisce on your college years
For many of us, we've spent four years or more collecting memories from college. Being home has given a lot of us more time than we know what to do with. One way to commemorate your college years is to make a collage or special project of your memories. Go through your old photos from freshman year, reach out to old friends who you've lost touch with, or make a short video to highlight some of your best memories. Once you're done, make sure to share it with your friends and family so they can see what you fondly think of when you recall the last few years.
Decorate your commencement cap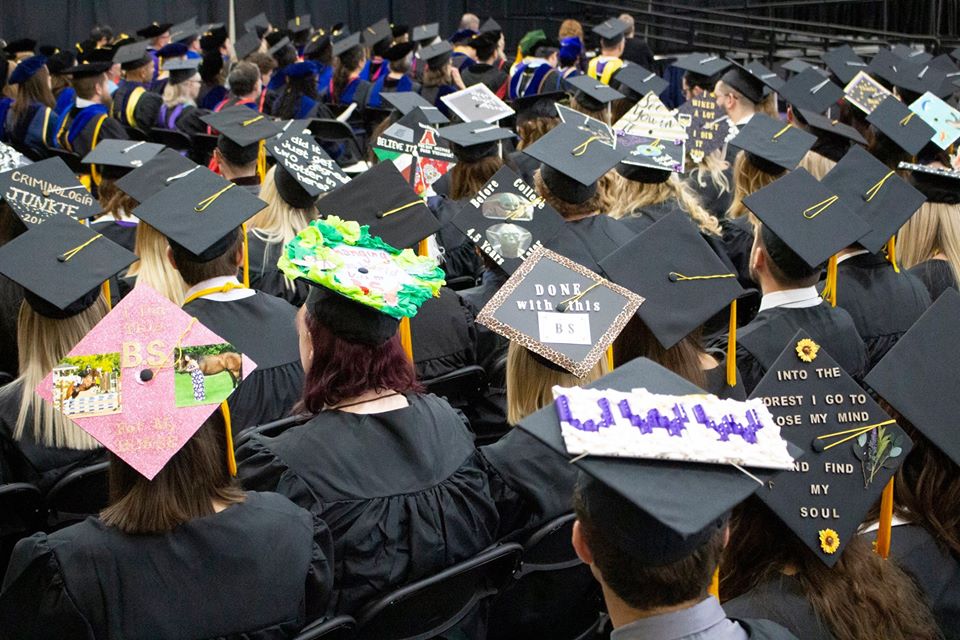 One of the things I'd been looking forward to most during this year was getting to decorate my commencement cap. When we realized that graduation wouldn't happen as we know it on May 16, I kind of forgot that I had wanted to decorate my cap. Now, I'm realizing that a virtual commencement ceremony doesn't mean I can't still decorate my cap now. There is still hope for an in-person ceremony someday, so I'm going to need my cap and gown eventually. A way to celebrate your unique time of graduating is to decorate your cap! Paint it, print something for it, get some stickers, do whatever will help you celebrate your graduation.
Parade celebration
I'm sure you've seen them going around social media. People are throwing celebratory parades for birthdays, anniversaries, and now graduations. Invite your friends and family to celebrate your graduation with a parade of your own! If you don't feel comfortable organizing this, you could always ask someone close to help plan it. It's nice to know there are people who care about you and who are proud of everything you've done.
Ask your friends and family for advice for post-graduation
Graduating college is major life change. We thought graduating high school would be a transition, but we're about to see an even bigger one. Many of us are about to start full-time jobs and some of us will be moving. There are a lot of people out there who have been in our shoes, albeit without COVID-19. These people have a lot of wisdom and valuable advice for us and it's nice to hear what they have to say. Ask those around you for their advice on graduating and preparing to enter the 'real world'. You might be surprised by what they have to say. We asked some of the UC staff to share their words of advice in the "Advice to Graduates" blog.
Do something that will make you happy
Finally, I think it is most important that you do something on your 'graduation' day that will make YOU happy. You know yourself best and you know what will help you feel honored or celebrated during this time. Even if it is not your typical celebratory event, do something that brings you joy. It might be watching your favorite show on Netflix, it might be making an art project, but no matter what, it should make you happy.
I've provided 10 suggestions on how you can celebrate your graduation in 2020. It is important to remember that these are just suggestions, and you should do whatever will help you feel happy on your graduation day. May 16th is the day of the 2020 UW-Whitewater Virtual Celebration of Graduates, but there are still other ways for you to celebrate your accomplishments at home. For me, I'll be celebrating with my out-of-state family with a virtual streaming party and will have my favorite dinner that night. What will you do to celebrate your graduation at home?