A co-worker passed along a couple of cute cat stories. One is about a cat in the Milwaukee area with 26 toes (that's 2 extra per paw!) that's helping raise money for a new facility ($26 dollars at a time), and the other is about a cat in Rome with a large inheritance. Awwww. Yes, the little furry faces tug at my heartstrings. I also am pleased to know that Dr. Oz says cats help reduce a person's blood pressure (and thus help to prevent strokes and heart attacks). Don't take just his word for it…read "The therapeutic value of pets" (The Western Journal Of Medicine, vol.144:no.1, pp.103-105) and "Companion animals and human health: Benefits, challenges, and the road ahead" (Journal of Veterinary Behavior: Clinical Applications and Research, vol.5:no., pp.226-234).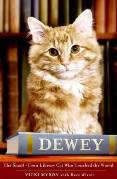 Interested in cat tails? I mean, tales? Andersen Library has some that might be the purr-fect read for you, and the next best thing to having a real kitty at home! This one is even a true story: Dewey: The small-town library cat who touched the world (3rd-floor Main Collection, SF445.5 .M97 2008). And it inspired another book: Dewey's nine lives: The legacy of the small-town library cat who inspired millions (2nd-floor Browsing Books, SF445.5 .M974 2010). There are many fiction titles featuring felines; find the ones Andersen Library has by searching HALCAT, e.g., Cat telling tales: A Joe Grey mystery (2nd-floor Browsing Books, PS3563.U7619 C359 2011), The nine lives of Christmas (2nd-floor Browsing Books, PS3618.O31625 N56 2011), and Cat of the century: A Mrs. Murphy mystery (2nd-floor Browsing Books, PS3552.R698 C37 2010). Something to keep in mind for the days off before Spring semester. Enjoy.
Thanks for the news stories, Carol!