By: Jake Bessette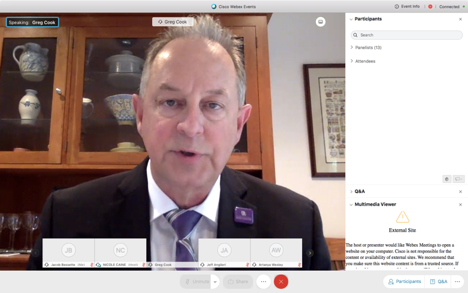 Sunday, September 27th: This past Friday, Interim Chancellor Greg Cook addressed the staff and students of UW Whitewater via Webex.  Topics that were brought up ranged from updates on the COVID-19 outbreak to the recent emergency situation on campus.
A large part of the meeting covered the handling and progress of the COVID-19 testing protocols being done by the school's administration. It was made imperative how student safety and support is being accounted for in the decision making for the testing and quarantining protocols.
Interim Chancellor Cook has made it his goal to streamline the testing accuracy and urge students to use the tools given to them to help stop the spread of the virus. "We want to encourage students to call the COVID-19 hotline but also work with them to provide support and be flexible with them in these difficult times."
Cook then addressed the next steps in ensuring student and staff safety here on campus. His main points are to use the two separate testing methods, Antigen and PCR, to help narrow down positive cases faster and more accurately.
Antigen testingis based on random testing that is being done throughout the resident halls this semester. Chancellor Cook reports that these random tests have resulted to about a 5% positive rate among the students being tested.
The PCR testing format is known to yield a much higher positivity rate. This is due to the test being given to students who believe that they are experiencing COVID symptoms, thus narrowing down the test subjects and getting back clearer results.
Interim Vice Chancellor Artanya Wesley chimed in expanding on the testing protocols explaining that its important they provide more avenues of support to the students.
The last issues that were brought up about the pandemic, was the question of the semester going fully remote for the remainder of the fall. This is in response to the rise in case numbers and little face to face meetings to begin with in most classes.
To try and combat the rising cases and the chance of a fully remote semester, Cook explains the different factors that come into play.
One is the availability of rooms and areas for isolation and quarantine within the dorms. This will be an option as long as the capacity in these rooms and dorms stays at a safe level and does not put students into harm's way in the resident halls.
The Interim Vice and Chancellor will continue to keep the campus and its students informed on any COVID-19 updates that affect them. If you are potentially experiencing or think you are experiencing symptoms of COVID-19, herein where you can submit a test screening for UW Whitewater.