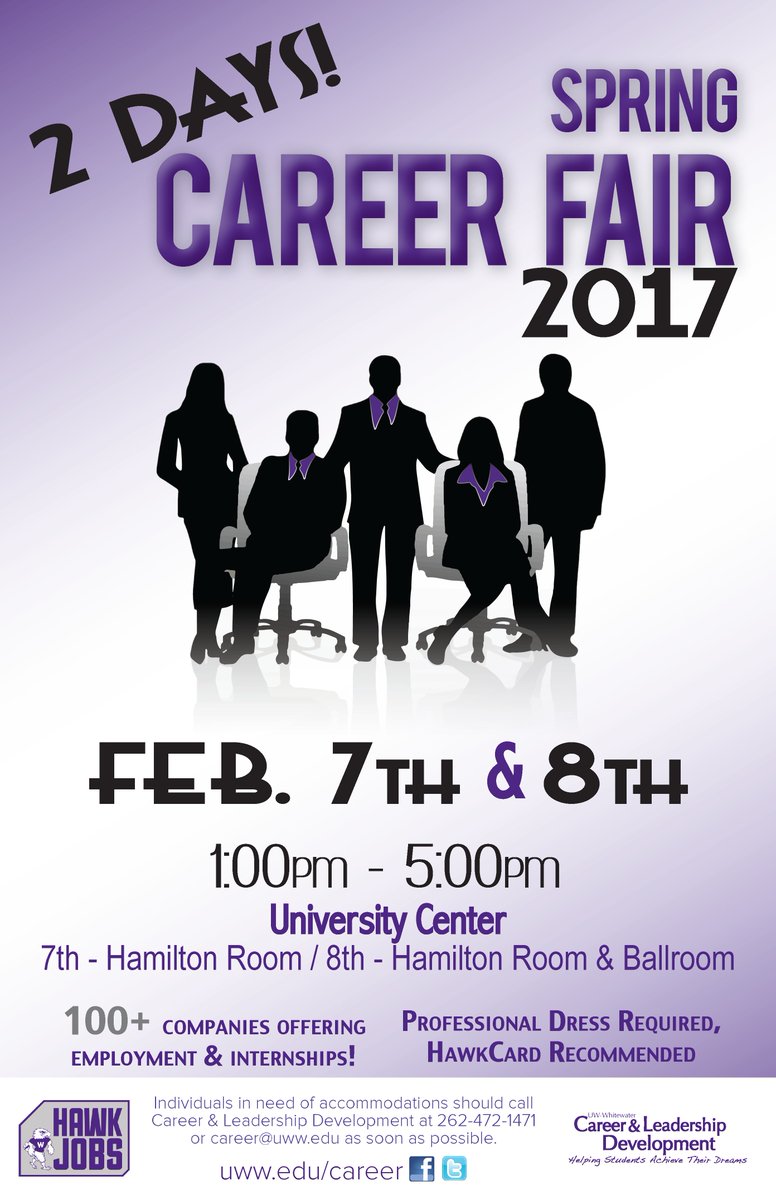 Nervousness and excitement filled the air in the Hamilton Room, in the University Center, as hundreds students searched for possible career opportunities.  This past week the University of Wisconsin Whitewater held its annual Spring Career Fair.  The fair, put on be the Career and Leadership Center, took place from 1pm to 5pm and gives students to talk to companies about possible internships and jobs.  Students dress in their finest clothes move from booth to booth handing out resumes in hopes of impressing companies.
Although it may be nerve wracking for students, many companies enjoy coming to Whitewater to find talented young individuals to fill positions at their companies.  A human resource representative for Delta Defense, a self-defense company, said she liked coming to Whitewater because to the students always seem eager to talk to companies and seem calm and collected. She stated that, "I have never seen more professional looking students who are so intelligent. It would be my pleasure to employee UW-Whitewater students as interns and full time employees." She encourages students to check out their website if interested in career opportunities. Many other companies encourage students to do the same.
Not only do companies see the advantage the career fair brings, students do as well. Many believes it gives them a leg up on their possible competition by talking to company representatives face to face.  Erica Koller, a marketing major, said," Although the career makes me nervous, it is important that I go because I feel like companies will remember me better during the application process if they meet me face to face.  For instance, Delta Defense remember me from the fall fair and I like I have a good shot at an internship there."  The career fairs that UW-Whitewater gives students a chance to possibly get a life-long career and shows that the university cares about the futures of their students.
As stated before going to a career fair can be scary for students.  Luckily for students the university has many resources on campus that can help prepare students for meeting with future employers. On of these is the Career and Leadership Development Center. The center helps students prepare for interviews. Also, students can check out the Career Spotlight blog.  The blog post many different stories that offer student tips on what they should do before, during, and after the career fair. Overall the 2017 Career Fair had a great turnout.