I Started Strong and Finished Stronger. My Goodbye Blog
Goodbyes are never easy, and I can't believe this is my final blog for Warhawk Fitness. I don't even know where to start this blog. I am so thankful for this opportunity to expand my creativity, my voice, and my horizon. I want to say thank you to all of you readers. Without you, I wouldn't be able to push myself to create better content than the last. Writing these blogs, creating and filming vlogs (cringy or not), and sharing content with you on our social media pages have meant so much to me because I was able to share my voice and express my love and passion for health. The Warhawk Fitness and aquatics PR Team encouraged me to be my best for everything I did. I am so happy to have been a part of such a creative, welcoming and passionate team like this. Since this whole pandemic started, my company is on a hiring freeze until Covid-19 is over. However, even though this isn't how I wanted to end my senior year, my graduation, or my shift into the real world, it has taught me that with patience and positivity that I can make the best out of each situation. Below I am leaving some advice I have learned and lived by throughout my life and college experience.
When you see something you want, don't stop until you get it. When I was young, my father started telling me that I was a "Dog after a bone", meaning I will do whatever it takes to achieve what I want. I applied that to everything I did, whether it was in my relationships, my extra-circulars, jobs, academics, or job search, I gave it my all. I remember walking into my interview for PR team and answering their question of "what is your spirit animal and why?". I responded with "a dog because I am a dog after a bone, doing whatever it takes to catch what I want." I looked up and saw former team member, Max Prospero, look up and tell me that was amazing and just how much he loved that. In that moment, I knew I caught my bone. Never stop until you achieve what you want. Go after that bone with everything you got.
My last piece of advice is my tag line, Start strong, Finish Stronger. When I was a child, I had a very hard time in school. It wasn't something I truly cared about until it was too late. However, my mother used to tell me that I needed to start strong to finish strong. Ever since that moment, I started to get my act together. I would go in for extra help or stay up all night studying if I had to. I worked hard so that when I finished my college journey, I was nominated to speak at commencement for all my hard work and achievements throughout my time at Whitewater. It doesn't matter what you have to show for that success, but that you feel accomplished.
Be proud of who you are and what you have worked towards. You can achieve anything when you set your mind to it. Thank you, Warhawk Fitness and Aquatics and all you readers, viewers, and followers for believing in me, inspiring me, and pushing me to be my absolute best. I will look back on this and be proud of everything I have accomplished. I started strong so I could Finish stronger.
With love and gratitude,
Emma O'Connor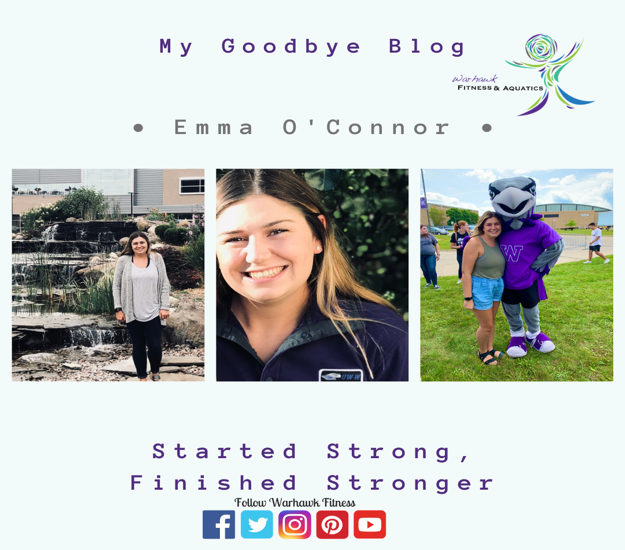 ---
---