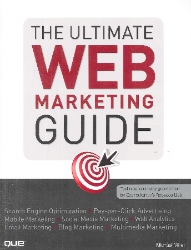 The Ultimate Web Marketing Guide
by Michael Miller
HF5415.1265 .M555 2011
New Book Island, 2nd floor
Some people use summer as a way to relax and recharge after a draining semester [read: me]. However, I realize that not everyone is like me and would like to be productive with the extra time that may arise between the spring and fall semesters. If you're one of those people and also happen to want to learn more about the opportunities that come with digital technologies, then this week's featured title is right up your alley.
Miller, experienced technology author, has assembled quite the work on all things online marketing. He covers everything from the basics of marketing principles to gaining visibility with search engine optimization and web analytics. The author then covers each manifestation of web marketing, with blogs, social media, video and mobile as vehicles for promotion of your product or service [or YOU, even]. This book takes you through all of the aspects that you need to understand in order to effectively reach current and potential customers on the Internet.