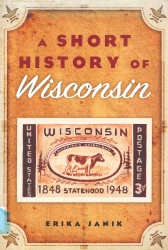 A Short History of Wisconsin
by Erika Janik
F581 .J36 2010
New Book Island, 2nd floor
The state of Wisconsin continues to have quite a situation of its hands. Since it's the week of Spring Break, might I suggest this week's featured title as some informative, light reading for the downtime?
Janik, the author of Odd Wisconsin: Amusing, Perplexing and Unlikely Stories from Wisconsin's Past, follows up with a quick read on the history of the land of cheese. She starts back before Wisconsin became the proud state that it is today and goes all the way through to the Tommy Thompson administration. Covering topics like progressive politics, immigration and sports, the author gives a face to a state that everyone knows as one entity and not the particulars of its great heritage.