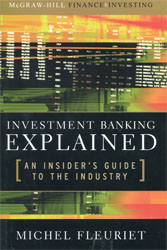 Investment Banking Explained:
An Insider's Guide to the Industry
by Michel Fleuriet
HG4534 .F57 2008
New Book Island, 2nd floor
I'm not sure that the country expected such a shakeup in the financial services sector and the possible congressional bailout on the way. You might want to check out this week's featured book – although the author obviously didn't forecast the market's swift fallout.
Fleuriet, drawing from his experience at the helm of Merrill Lynch France, Chase Manhattan France and others, shares his knowledge of the complex world of investment banking. You don't have to be a business expert to follow the text, as the author begins with the development of the industry and the establishment of the (now tumbling) Wall Street giants. He then goes into details regarding the specialties of investment banking, such as equity research, mergers & acquisitions, and asset management. If you feel lost while watching the business headlines today, this book provides insight into an industry that is currently on everyone's mind in some form or another.