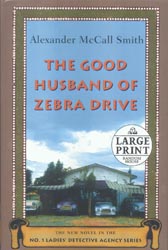 The Good Husband of Zebra Drive
by Alexander McCall Smith
MCN McC
McNaughton Collection, 2nd floor
The latest installment of the international best-selling No. 1 Ladies Detective Agency series is sure to keep fans coming back for more. Mr. J.L.B. Matekoni is a master mechanic, who loves his job as the proprietor of Tlokweng Road Speedy Motors. But feeling the need for a new kind of challenge, he takes on a case at his wife's detective agency. Meanwhile Mma Makutsi is also feeling restless and threatens to resign as assistant detective at the agency. Things go even more awry as Charlie, the older apprentice gets big ideas about his future. Meanwhile, trouble is brewing at a local hospital where patients are dying in the same bed at the same time on Fridays. As always Mma Ramotswe, the only private lady detective in Botswana, must use all her female intuition and good judgment to keep her little corner of the world from unraveling.
You won't need to read the previous seven books to appreciate The Good Husband, though. This book will give you a glimpse into life in a modern African city whose heart is still shaped by the broad savannahs and wide open skies of Botswana.