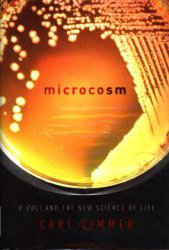 Microcosm:
E. Coli and the New Science of Life
by Carl Zimmer
QR82 .E6 Z56 2008
New Book Island, 2nd floor
Bacteria generally gets a lot of bad press, especially with the recent deaths from outbreaks of food poisoning. E.coli is no exception, but this week's New Stuff Tuesday just might change your mind.
Zimmer, science writer for the New York Times, paints a very different picture of Escherichia coli from the rest of the media. The book delves into the history of the bacteria, discovered back in 1885 by German pediatrician Theodor Escherich, to its present, responsible for the inception of the biotechnology industry. While we only hear about the malicious strains that cause diseases, the scientists in their labs are yielding its powers for good. My favorite chapter is 'The E. coli Watcher's Field Guide,' where the author takes you on a 'day in the life' of the bacteria as it travels through the body. Definitely an insightful look into a fascinating little organism.