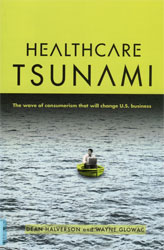 Healthcare Tsunami:
The Wave of Consumerism That Will Change US Business
by Dean Halverson & Wayne Glowac
RA410.53 .H35 2008
New Book Island, 2nd floor
The skyrocketing cost of oil isn't the only concern of the minds of many Americans. Access to adequate and affordable health care for families and individuals is also a hot topic these days and the theme of this week's featured book.
The healthcare industry is a complex animal, with the many hands in the pot. You've got the providers, insurance companies, government regulators, legislators and of course, the consumers. Halverson and Glowac, experts in the areas of market research and residents of Wisconsin, argue that the industry in for a wave of change – and not just any wave, a tsunami. As they explain in the introduction, the term tsunami generally pertains to an ocean wave caused by underwater earthquake or volcano. After seeing the aftereffects of the tsunamis in Asia, apply it to the context of business and it gets messy. They detail the past and present of healthcare and what the future holds. The question is, "Who will survive the tsunami?" (no pun intended) Check out the authors' website for the book for more information.